Title:
Night Watch
Credit to:

winterfish
Base style:
Tabula Rasa
Type:
Full Layout (CSS)
Best resolution:
Variable width
Tested in:
Firefox 3.6, IE 8, and Safari 4 on PC
Features:
Works with all two and three column page setups. Entry icons on the right with username underneath.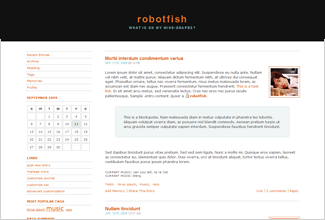 Image Preview
|
Live Preview
ETA:
Switched layout preview to display the sidebar on the right. Could you let me know if it isn't displaying properly, and what browser/operating system you're using. Thanks!
ETA 2: Er, nevermind! Do let me know if anything isn't displaying properly. Thanks!
Installation Instructions
1. Go to the
Select Journal Style
page, find the Tabula Rasa Plain layout and click "Apply theme". Also choose a Page Setup (ie. two or three column layout) by clicking the "Apply layout" button for whichever page setup you want.
2. Next, click on the "Customize Selected Theme" link to go to the
Customize Journal Style
page. Scroll down past the Mood Theme and Navigation options to Presentation, and under "Additional Options" make sure that "User Interaction Links", "Entry Management Links" and "Comment Management Links" are set to print as "text-only". Click Save.
3. Click on the "Custom CSS" link on the left side to go to the
Custom CSS
page: Deselect the ticky in "Use layout's stylesheet(s)", and copy and paste from the text box below into the Custom CSS box. Save changes, and you're done. :)
Feel free to use the stylesheet as is, or customize as you like. (Sorry it's so horribly messy. It got more and more convoluted the more I fiddled with it. o.O)
Colours Used:
(find and replace using a text editor like notepad, not microsoft word)
links
#D6641D
, hover
#93CEDC
, visited
#6DB4C1
Background colour for #header and #footer: #111111
Background colours for .day-has-entries in calendars: link
#E1EDEB
hover
#F0F6F5
(<-- also background colour in blockquotes)
Putting a banner in the header:
Paste the code from the text box below at the end of the stylesheet. Add your image's url between the brackets, and specify a height.
ETA: To get mood theme pics to show, search for and delete this line:
.metadata img {display: none;}